How long have you been writing? I have been writing since I have been in grade school. But I would have to say that I have been writing professionally since I was in about 9th grade.
What inspires you to write and why? life really inspires me to write. I think everyday just living and dealing with people everyday, I find that people want answers and hearing their stories cause me to explore the unknown and makes me start to write.
How did you come up with the title? When we are going thru hardships of life there are many things that drop off and out of our lives but its when you make it to the last drop do you receive just want you were looking for… so thats where the title came from as well is the character having a bleeding problem and wanted the bleeding to stop so I said til the last drop.
Who is your publisher? iUniverse
Is there a message in your novel that you want readers to grasp? You learn the meaning of true love sometimes in the hardest circumstances.
Can we expect any more books from you in the future? Yes almost clompleted the next book called "Caught up" which is going to be very edgy and almost on the same line as 'Til the Last drop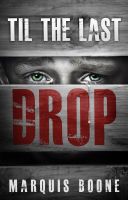 Buy Now @ Amazon & Smashwords
Genre – Religious Fiction
Rating – PG
More details about the author & the book